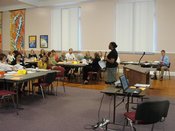 District Accreditation Steering Committee Meeting
Mission Statement
In partnership with the community, the Baldwin County Public Schools' mission is to provide a quality education that fosters learning.
Vision Statement
Our vision is to create a world class learning environment.
Spanish Version Mission and Vision Statement
Declaración de misión
En colaboración con la comunidad, la misión de las Escuelas Públicas del Condado de Baldwin es brindar una educación de calidad que fomente el aprendizaje.
Declaración de visión
Nuestra visión es crear un ambiente de aprendizaje de talla mundial.