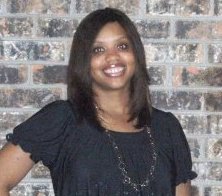 Phone: 251.937.2341
Email:
Degrees and Certifications:
Bachelor of Science-Biomedical Sciences, University of South Alabama Master of Education-General Science, University of South Alabama Doctor of Education-Teacher Leadership, Walden University (June 2015)
Mrs.

Chantelle Smith McPherson

My name is Chantelle Smith McPherson. I consider it an honor to teach at Baldwin County High School. I am also a proud graduate of Baldwin County High School. Additionally, I furthered my education at Spelman College in Atlanta, Georgia and I graduated from the University of South Alabama with a B.S. in Biomedical Sciences. I also received a M.Ed. in General Science from the University of South Alabama. Currently, I am in the dissertation phase of my doctoral degree in Teacher Leadership at Walden University. As an educator, I have the ability to be a catalyst for change and I treasure each moment that I spend with my students.

I decided that I wanted to become a teacher a few years after completing my first degree. I knew that I wanted to do something rewarding, purposeful, and work with young people. Teaching was the ideal opportunity to fulfill these goals. I have been teaching at this great school for 13 years. I have taught various science courses during this time. I am currently teaching Biology and Physical Science. In addition, I serve as the National Honor Society Co-Sponsor. I have also had the opportunity to serve as a member of the Digital Renaissance Leadership Academy and other capacities over the years. My favorite part about teaching is that I can change destiny. Nelson Mandela said: "Education is the most powerful weapon you can use to change the world." Teaching allows me to work on hearts and minds, to guide my students in becoming empowered, literate, engaged, creative, liberated human beings who want to join in this effort to change the world. I also love my students tremendously!

In addition, I am married and I have a very gregarious four-year old daughter who is my heart. I love to write, read novels, and dance. Also, I am in the process of writing my first children's book. I have a sincere desire to see my students become the best versions of themselves. I believe that my divine purpose is to empower my students with knowledge so that they can transform their communities.