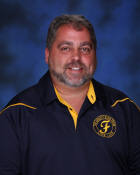 Phone: 251-943-1340
Email:
Degrees and Certifications:
Bachelors Degree In Instrumental Music Education from the University of Southern Mississippi Bachelors Degree In Percussion Performance from the University of Southern Mississippi Masters Degree from the University of Phoenix in Arts and Curriculum
Mr.

Carl Major

Carl Major has been the Director of Bands at Foley High School since 1996. Mr. Major has led an extraordinary Foley Band program to a Grammy Award, numerous marching and concert band superior ratings and championships, proclamations, and other accolades from Local and State Representatives. Mr. Major also received personal commendations from the President of the United States and boasts a personal letter from the White House in his band office. While under the direction of Mr. Major, the Foley Band program has performed on national television or other major venues such as the Peach Bowl, The Fiesta Bowl Parade, New York Thanksgiving Parade, Fiesta Flambeau Parade in Texas, the Chicago St. Patrick's Day Parade, and most recently the opening ceremonies for the Daytona-500 in Daytona, Florida. Mr. Major earned his Bachelors degree from the University of Southern Mississippi and his Masters degree from the University of Phoenix. Mr. Major has teaching experience in Tennessee, Florida, and Alabama.

Mr. Major has performed as a musician himself in Taiwan, Hawaii, the Macy's Thanksgiving Day parade, the Fiesta Bowl Parade, the Tournament of Roses parade, and Carnage Hall in New York City. As a highly sought out clinician and instructor, Mr. Major travels during the summer months teaching numerous band and percussion camps. Mr. Major has taught over 145 summer band and percussion camps, as well as judged band and percussion contests in Mississippi, Florida, Louisiana, Alabama, Oklahoma, Tennessee, Minnesota, and Georgia. Mr. Major has composed drill for halftime shows for over 90 bands in Alabama, Florida, Georgia, Tennessee, Louisiana, and Mississippi, and he has written over 500 percussion arrangements for bands in Mississippi, Alabama, Tennessee, Florida, Minnesota, Oklahoma, and Florida during 30 years as a percussion and band arranger. Mr. Major currently serves as the Percussion Editor for both the Jalen and Matrix Music Publishing Companies out of Orlando, Florida. Mr. Major has over 175 original and arranged compositions published with Jalen Publishing, Matrix Publishing, Pepper Music, and the Southern Music Company. According to both the Jalen and Matrix Publishing Companies, in 2012 over 400 band programs worldwide have performed music written by Mr. Carl Major. Mr. Major worked as an instructor on the collegiate level as he served as a private studio teacher at Chipola Jr. College in Marianna, Florida.

Mr. Major holds professional memberships with the National Band Association, Percussion Arts Society, Alabama Bandmasters Association, Florida Bandmasters Association, Music Educators National Conference, the International Association of Rudimental Percussionist, and he is also a member of the National Who's Who among American High School Teachers and Music Educators. In 2004, Mr. Major became a member of the American School Band Directors Association. A very elite membership, this organization had only 12 active members in the state of Alabama. Under Mr. Major's guidance in 2000, the Foley Band Program was designated as a "Grammy Signature School" for having one of the top 100 band programs in the United States, and earned a "Grammy Award". For this outstanding accomplishment, Mr. Major was awarded the "Citation of Excellence" through the National Band Association for excellence in Music Education. Mr. Major's bands have also been listed in the Drum Corp Internationals "Commitment to Excellence" program, recognizing only 937 bands in the United States and, at that time, only 37 bands were from Alabama.

In 2004, Carl Major, received a personal endorsement from the Innovative Percussion Company. With this endorsement, Mr. Major is currently listed as an endorsement educator on the Innovative Percussion Company website and research brochures sent to thousands of schools systems across the United States. With all of these personal and musical accolades, Mr. Major has placed many of his band students at major Universities with music scholarships including Troy University, Auburn University, The University of Southern Mississippi, The University of South Alabama, Mississippi State University, The University of West Alabama, Ole Miss University, Louisiana State University, Alabama A & M, Interlochen School of Music, Gulf Coast Community College, Julliard School of Music, The University of North Alabama, The United States Marine Corp Band, University of Tennessee, and The University of Alabama.

Carl Major has been married to Amanda Major of Fairhope, Alabama for 25 years. Mrs. Major received degrees in English, Philosophy, and Instrumental Musical Education from the University of Southern Mississippi, where she attended college on a music and academic scholarship. Mrs. Major received a Masters degree, with honors, in English from The University of South Alabama. Mrs. Major currently a teacher at Foley High School and teaches Leadership, English, and is in charge of the school newspaper. Mrs. Major has been a performing musician for almost 35 years, and she has been a member of many world-class ensembles from Drum Corp International to collegiate level winning ensembles. Mr. and Mrs. Major have three children; 18-year-old Madison Leigh, 17-year-old Carson, and 15-year-old Grayson Major.