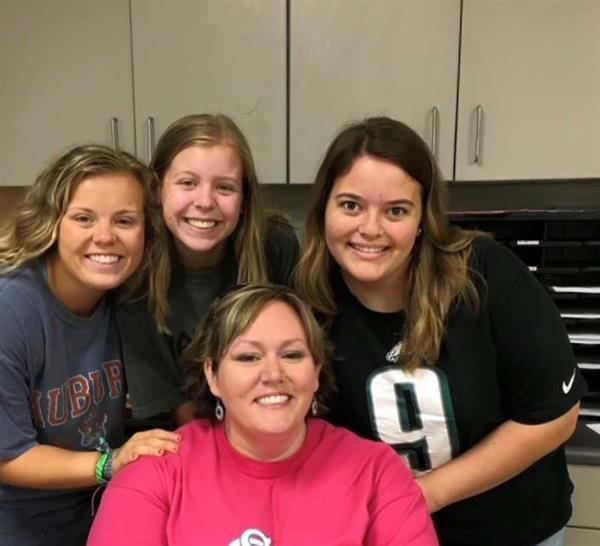 Phone: 251/968-4747
Email:
Degrees and Certifications:
B.A. - English/Marketing - Auburn University Montgomery - 2003 M.A.T. English - University of West Alabama - 2008 Ed.D. - Curriculum Leadership - expected graduation 2019 AP English Literature and Language - College Board AP Language and AP Seminar Reader - College Board A+ College Ready trainer Baldwin County Lead Teacher - ELA Professional Organizations: National Council for Teachers of English International Literacy Association
Mrs.

Flannery Stanford

"The English language is nobody's special property. It is the property of the imagination; it is the property of the language itself." - Derek Walcott

I have loved the English language my entire life, and in my fifteen years of teaching, I have come to love working with young people just as much - maybe even more. Sharing my passion for language and literature while challenging teen minds and encouraging honor and accountability is a dream job for me, and every year, I try to get better at it. I attend national conferences, complete college courses, and engage in professional collaboration communities in order to keep my teaching current and relevant. Outside of the classroom, nothing means more to me than my precious family. I have a fantastic husband, three bright, infuriating, teriffic children, a best friend who is more lke a sister, a shelter rescue dog, and a handsome cat. I love to read, attend live theater and music performances, study, travel, and build my network of intelligent, talented people all over the United States and beyond! This summer, I was fortunate enough to be selected to attend a Shakespeare intensive in New York City. Thanks to that experience, I have now performed on an Off-Broadway stage, studied under Columbia University professors, and thumbed through the pages of Shakespeare's First Folio! Even better, I've befriended amazing teachers and professors from all over the country who continue to challenge me to change, learn, and grow in my teaching practice and philosophy. I hope that you enjoy your time in my class and find new ways to relate to, manipulate, and (hopefully) love our delightful, nuanced, frustrating, fascinating language.