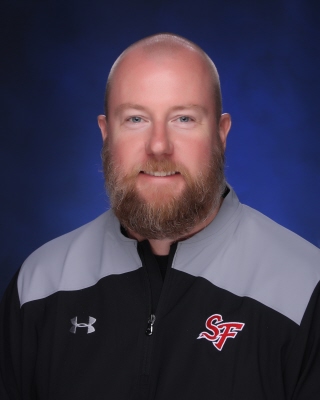 Phone: 251-625-3271
Email:
Degrees and Certifications:
Associate of Arts Tallahassee Community College Bachelor of Science - Secondary Education University of Alabama Certifications (7-12): Biology, Geography, Health, Physical Education, Driver & Traffic Safety Education
Mr.

Timothy S. Daniels

Mr. Timothy S. Daniels is a native of Marianna, Florida and a graduate of Marianna High School. Following high school, he earned an Associate of Arts Degree from Tallahassee Community College before transferring to the University of Alabama where he earned a Bachelor of Science in Secondary Education. After finishing his degree, Mr. Daniels was hired by the Baldwin County Public School System in 1998 and has been teaching middle school students in Spanish Fort for 23 years. He is certified in Biology, Geography, Physical Education, Health, and Driver and Traffic Safety Education.

Mr. Daniels has been a part of the Spanish Fort community since the 8th grade was added to Spanish Fort School for the 1998-99 school year, re-establishing a full middle school. He is the only Spanish Fort Middle School staff member who has remained throughout the middle school's transition from Spanish Fort Elementary to Spanish Fort High School in 2005 and ultimately to the current Spanish Fort Middle School which opened in 2008. Since beginning his teaching career in Baldwin County, he has performed many roles including science teacher, history teacher, physical education teacher, academic club sponsor, athletic director, and coach.

While at Spanish Fort, Mr. Daniels has been recognized for outstanding achievements as a teacher and coach. During the 2005-2006 school year, he was named Spanish Fort High School's Middle School Teacher of the Year and was also recognized as the Secondary Level Teacher of the Year for the Baldwin County Public School System. As the sponsor of our Science Bowl Team, his teams won the Alabama Regional Tournament in 2010, 2012, and 2016 allowing Spanish Fort Middle to represent Alabama at the U.S. Department of Energy's National Science Bowl held annually in Washington, D.C. He also established Spanish Fort Middle's competition MATHCOUNTS program during the 2016-2017 school year which advanced ten students to the Southwest Alabama Chapter Competition, four students to the Alabama State Competition, and ultimately produced one of the four team members who represented Alabama at the National MATHCOUNTS Competiion in Orlando, FL in its first year of existence. As a coach, he is responsible for establishing the middle school football program at Spanish Fort in 2001 and has led middle school teams in Spanish Fort to county championships in boys basketball, girls basketball, football, boys soccer, and boys track. Mr. Daniels received the BCMSAA 1A Football Coach of the Year Award in 2006 and 2007; BCMSAA 1A Boys Basketball Coach of the Year Award in 2000, 2001, 2006, 2007; BCMSAA 2A Boys Basketball Coach of the Year Award in 2019; and BCMSAA 2A Boys Track Coach of the Year Award in 2013, 2017, 2018, and 2019.

Mr. Daniels is married to Mrs. Ashby Daniels who teaches French at Spanish Fort High School and has two daughters, Ada, who will be in 7th grade and Lucie, who will be in 3rd grade at Spanish Fort Elementary School during the 2020-2021 school year. When not at work, he enjoys cooking, gardening, camping, kayaking, going to the beach, spending time with family, and following college sports. You can email Mr. Daniels at tdaniels2@bcbe.org.