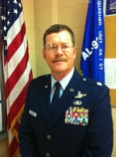 Phone: 251-626-0096
Email:
Degrees and Certifications:
Bachelors from United States Air Force Academy Masters from Troy State University Certificate to teach AF JROTC in July 2010
Douglas G. Goodlin

Graduate of Ligonier Valley High School, 1979. Graduate of United States Air Force Academy, 1984.

Master's Degree from Troy State University, 1992. Active duty military from May 1984 to Sep 2010. Trained as a special operations helicopter pilot (HH and MH-53 PAVELOW). Served in England and Hurlburt Field, FL and Kirtland AFB, NM. Performed staff duties at Air Force Personnel Center as the Helicopter Resource officer in San Antonio, TX. Director of Operations at 23rd Flying Training Squadron, Ft Rucker, AL. Moved to Civil Air Patrol - United States Air Force and served as Northeast Liaison Officer Detachment commander. While there, trained as fixed-wing pilot flying Cessna C-172 and 182 aircraft. Later moved to Maxwell AFB, Montgomery, AL and trained in C-182 and GA-8. Final tour flying MI-17 helicopters as an Air Advisor to the Iraqi Air Force, Taji AB, Iraq from May 2009 to 2010. Retired in summer 2010. Began teaching AF JROTC at Daphne High School in July 2010.