The Google Classroom for the Drama Club is now active. Simply visit Google Classroom and join using this code: flfo2gt.

The FHS Theatre Department is holding open auditions for its fall play A Doll's House. Video auditions are due on the Drama Club Google Classroom by 11:59pm on SEPTEMBER 13!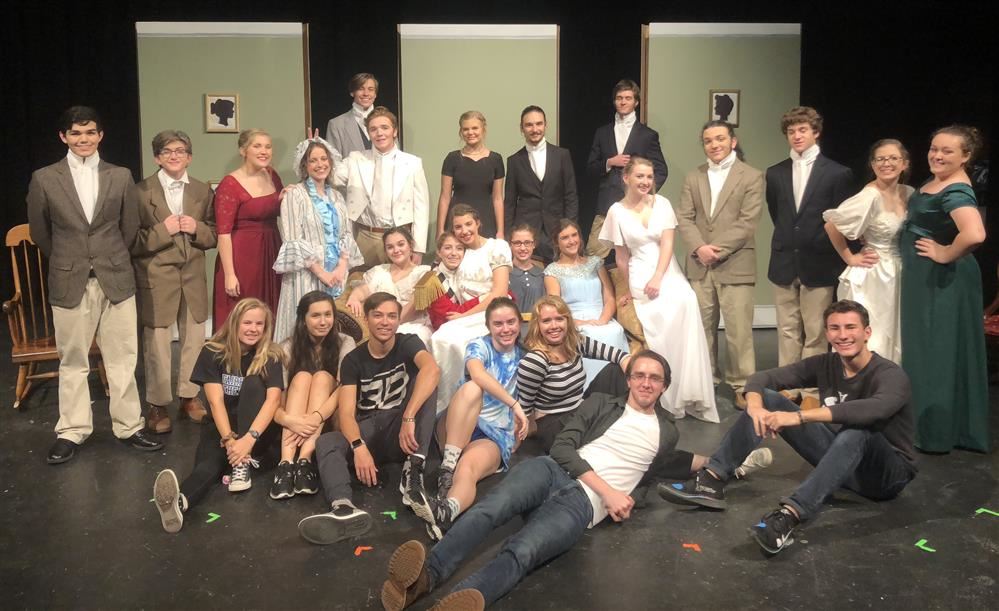 The Fairhope High School Drama Club is a safe haven from the stresses of high school. It's also the most low-maintenance club on campus! All you need to do to be a member is join the Google Classroom using the code flfo2gt. We will then send you emails every once in a while with updates on new opportunities. Every year, we have a Fall play and a Spring production, and we also participate in the Walter Trumbauer Secondary Theatre Festival. But your opportunities for participation aren't limited to performance! We always need backstage crew members, techies, and help at our set-building work days. There truly is something for everyone!
COVID-19 Procedures

It Mrs. Rogers' goal to keep every student as safe as possible in an environment that promotes their health. As such, we will be producing theatre for film this year. Instead of having a traditional performance with an audience, we will be filming performances to stream online. These will be edited together in the style of a filmed performance, rather than a livestream.

Just like at school, students will be expected to sanitize their hands, follow social distancing protocol, and wear masks during rehearsal. While we want to produce good theatre this year, we also want to keep everyone healthy!
International Thespian Society

Walter Trumbauer Secondary Theatre Festival
A Doll's House


In this play, the themes of societal expectations and achieving personhood are played out in the lives of the Helmers. Nora Helmer and her husband Torvald have been extremely happy in their marriage for the past eight years. They have three children, and Torvald has just been hired as a bank manager, earning them economic security. But not everything is as it seems. Nora has a secret. In the first year of their marriage, she borrowed money without Torvald's permission and committed fraud at the same time. Now, that decision has come back to haunt her in the form of Mr. Krogstad, a desperate man willing to blackmail her with what he knows in order to keep his job at the bank. Over the events of the play, Nora comes to realize that she not only doesn't know the man she married, but she also may not even fully know herself.
The Theatre Department is hosting open auditions for its fall play: A Doll's House by Henrik Ibsen. Audition videos are due by Sunday, September 13 @ 11:59pm. These auditions will be a little bit different in order to comply with COVID-19 restrictions. You will need to film yourself performing the monologue for the role for which you are auditioning. We ask you film in front of a neutral background (a blank wall is best) with your whole body visible in order to see blocking decisions. No props are allowed, but you may use a chair in order to sit for a portion or all of the monologue. The video should be one uninterrupted and unedited clip but may be trimmed at the beginning and end.

Callbacks, if necessary, will be Tuesday, September 15 @ 3:30pm. This year our department is focusing on producing theatre for film. Therefore, instead of working towards a traditional performance date with Tech Week, we will instead be preparing the show to film by December 3. It is REQUIRED for you to be in attendance at all of the previously stated dates to be cast. There will be no rehearsals October 8-13 in respect of your Fall Break vacation.

If you or your parents have any questions, please email Mrs. Rogers at hrogers@bcbe.org.

Click here to download the audition packet with the monologue selections. Videos must be submitted on the Drama Club Google Classroom.
Phone:
Email:
Degrees and Certifications:
Mrs.

Hannah Rogers

Mrs. Rogers has been at FHS since 2017. She earned her BA from Auburn University in 2014 in History with a double minor in Music and Theatre. She then earned her MA in Humanities from the University of Chicago in 2015.

She teaches Acting; IB Theatre HL; Stage Makeup; Technical Theatre; and Theatre I & II. She also serves as director for all Drama Club productions.

Please visit this website for images from our previous shows and the ADH rehearsal schedule.