The Google Classroom for the Drama Club is now active. Simply visit Google Classroom and join using this code: flfo2gt.

The FHS Theatre Department is holding open auditions for its fall play The Taming of the Shrew. Auditions will be on Thursday, August 12 at 3:15pm! Email Mrs. Rogers at hrogers@bcbe.org to schedule your audition slot!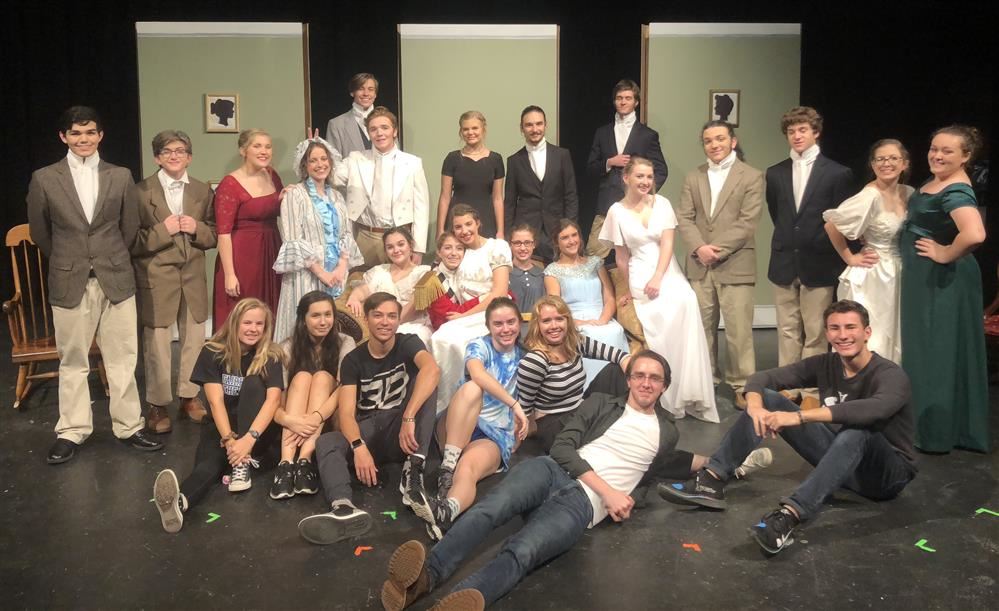 The Fairhope High School Drama Club is a safe haven from the stresses of high school. It's also the most low-maintenance club on campus! All you need to do to be a member is join the Google Classroom using the code flfo2gt. We will then send you emails every once in a while with updates on new opportunities. Every year, we have a Fall play and a Spring production, and we also participate in the Walter Trumbauer Secondary Theatre Festival. But your opportunities for participation aren't limited to performance! We always need backstage crew members, techies, and help at our set-building work days. There truly is something for everyone!
COVID-19 Procedures

Mrs. Rogers' goal is to keep students and their families as safe as possible in an environment that promotes their health. As such, the Drama Club will follow school guidelines per social distancing, mask usage, and disinfection.

Just like at school, students will be expected to sanitize your hands when entering and exiting the performance space. Props will be sanitized after every rehearsal.
International Thespian Society

Walter Trumbauer Secondary Theatre Festival
The Taming of the Shrew


Have you seen 10 Things I Hate About You? That's basically The Taming of the Shrew. It's a tale of two sisters, Katherine and Bianca. Bianca can't get married before her older sister does. Lucentio, who loves Bianca, disguises himself as a Latin tutor to get closer to her. At the same time, Petruchio, a friend of one of Bianca's suitors, comes to Verona in search of a wealthy wife, and after he hears of Katherine, resolves to marry her. Petruchio claims his sexist, boorish ways will "tame" Katherine into a perfect wife - obedient, quiet, and respectful. In the end, a contest is held to determine whose wife is best, and the results may shock you!

The Theatre Department is hosting open auditions for its fall play: The Taming of the Shrew by William Shakespeare. Auditions will be Thursday, August 12 at 3:15pm. You must schedule a time slot with Mrs. Rogers in order to audition. You do not need to have your monologue memorized. We ask you to sign in on the day so that we may get through auditions in a timely fashion. No props are allowed, but you may use a chair in order to sit for a portion or all of the monologue.

There are two monologues provided. It is suggested that you research and prepare your audition to the best of your ability. Please be familiar with the different roles you could play. You are welcome to prepare both monologues.

During your audition, you do NOT need to do an accent or be worried, this is fun! Create the character you'd want to watch!

Rehearsals begin Monday, August 16 for a read-through. Copies of the script will not be provided. We will be using the Folger Shakespeare Library edition of the script (available on Amazon and at Barnes and Noble). Rehearsals will be Mondays, Tuesdays, and Thursdays at 3:15-5:00pm with allowances for holidays. Some Saturday rehearsals will be required. A full rehearsal schedule will be distributed at the read-through.

Our show will open on Friday, October 22, with more public shows and hopefully a school show through the 27th. Tech Week rehearsals will be Monday, October 18 - Thursday, October 21 at 5:00-9:00pm. It is REQUIRED for you to be in attendance at all of the previously stated dates to be cast.

If you or your parents have any questions, please email Mrs. Rogers at hrogers@bcbe.org.

Click here to download the audition packet with the monologue selections.
Phone:
Email:
Degrees and Certifications:
Mrs.

Hannah Rogers

Mrs. Rogers has been at FHS since 2017. She earned her BA from Auburn University in 2014 in History with a double minor in Music and Theatre. She then earned her MA in Humanities from the University of Chicago in 2015.

She teaches Acting; IB Theatre HL; Stage Makeup; Technical Theatre; and Theatre I & II. She also serves as director for all Drama Club productions.

Please visit this website for images from our previous shows and the ADH rehearsal schedule.