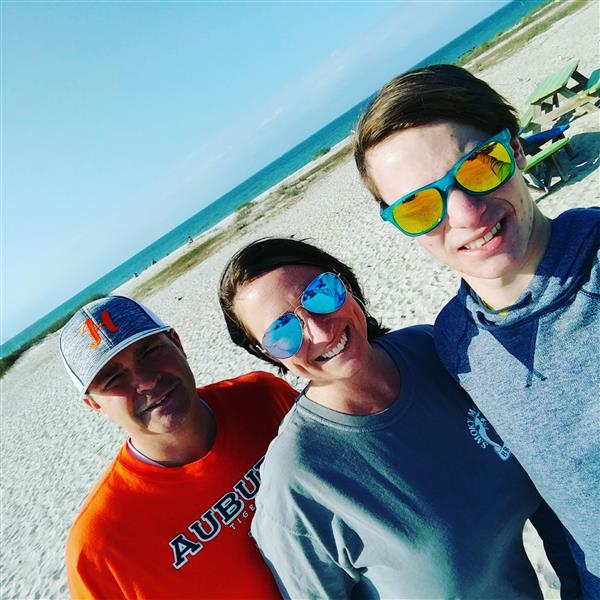 Phone:
Email:
Degrees and Certifications:
Tiffani Hudgins

Hi! My name is Tiffani Hudgins. I'm originally from Montgomery where I grew up, married Jay (also born and raised in Montgomery), and had our son. In 2004 we moved from Montgomery to Opelika where we raised our only child, Jonathan (JD). JD graduated early in 2017, and is currently working as he explores his next step in life.

My husband transferred to the Mobile office of his company in March 2017. I was hired by Baldwin County in July 2017 to teach at Daphne High School. As we adjusted to the new jobs, we were still looking for a home. While we searched the area, we lived in our RV in Robertsdale until early January 2018. We found the perfect place in Daphne, and quickly got out of that RV!

We have two dogs. Finnigan and Rock are Puggles (mix between a Beagle and a Pug) who are totally spoiled and worthless. They live alongside Chester (our rescue cat) who keeps them in place. Jay and I love the water, so we are often on our boat, at the beach, or the bay. JD is often not hanging out with us, as we are no longer cool. I love my family and spending time with them!

I graduated from Jefferson Davis High School, and then proceeded to obtain my Bachelors in History at Troy Montgomery. I absolutely love history, so it was only natural for me to concentrate my studies in such an awesome subject! I have a minor in both Political Science and English. I continued pursuing my education at Auburn Montgomery and received my Masters in Education. And most recently I completed my Education Specialist Degree in Special Education at Auburn Montgomery.

I taught history for ten years at Opelika Middle School, and then moved on to Smiths Station where I taught Career Prep for three years. Not only am I entering my 14th year of teaching, but this is my second year at Daphne High School teaching Government/Economics. This year I am also excited to teach Psychology!