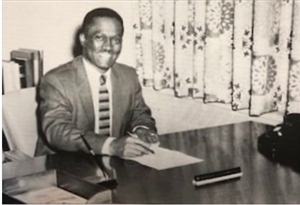 Reprinted by permission of Greg McRae, Administrator for the local history Facebook group "Scenes from Old Daphne"

Walker James Carroll was born in Mobile and graduated from Dunbar High School in 1931. He attended the State Teacher's College in Montgomery (what is known today as Alabama State University). His initial teaching job in the first year after college was at a school in Clanton followed by employment at Mobile County Training School. He was then offered the principal position at a school in Luverne which he accepted and worked for two year

s before the principal position opened at the Baldwin County Training School in Daphne. His mother was beginning to have some health issues so he decided on accepting the job position in Daphne which would allow him to be closer to his family.

Mr. W.J. Carroll was the fifth and longest-serving principal (32 years, from 1938 - 1970) at Baldwin County Training School while it operated under that name from 1917 to 1970. Mr. Carroll presided over the school during years of significant changes of buildings on campus, the uncertain war years, the challenging 1960's and into integration. The curriculum was further enhanced during his tenure with a focus placed on offering music, drama, debating, and public leadership. During his years of leadership, 60% of school graduates went on to attend college.

In addition to his duties as the principal, members of the Daphne community would come to him for help with government forms, important papers, or assistance with solving other problems. He was known as a firm disciplinarian and he expected his students to be responsible for their actions. After his long tenure as principal, he served as Supervisor of Instruction and Attendance at the central office for six additional years before retiring from the Baldwin County School System on 6/30/1976.

Mr Carroll continued living in Daphne for many years with his wife (Thelma Shorter Carroll) and was very active with community service including the following activities...

Eastern Shore Institute for Lifelong Learning (board member)
Old Spanish Fort Foundation (board of governers)
Baldwin County Youth Services (member of the steering committee and board of directors)
Daphne Planning Commission (member)

In 2007, a little more than 8 years after his death, the school he served as principal for many years was renamed in his honor as the W.J. Carroll Intermediate School.

Walker J. Carroll - born 9/16/1910, died 1/7/1999... he is buried in Oaklawn Memorial Cemetery in Mobile.

Credits:

1) Photo - Daphne History Museum

2) "Daphne: a history of its people and their pursuits, as some saw it and others remember it", Florence and Richard Scott, 1965, pp. 269-273.

3) Genealogy research -

Pam Martin McRae

… U.S. Social Security Death Index, Find-a-grave, World War II Draft Card, U.S Census records - 1920 and 1930.

4) Mobile Register, 9/4/1975, "Youth projects headline area committee meet", p. 7.

5) Mobile Register, 5/20/1976, "2 veteran educators retiring in Baldwin", p. 11.

6) Mobile Register, 9/7/1980, "Dunbar class reunion planned", p. 9.

7) Mobile Register, 1/29/1981, "Marty joins OSFF board", p. 13.

8) Mobile Register, 8/1/1985, "Fort site to undergo archeological survey", p. 74.

9) Mobile Register, 9/19/1985, "Fall Schedule Ready at Eastern Shore Institute", p. 87.

10) Mobile Register, 6/24/2007, "Educator's legacy to be honored", section Z, p. 1.

11) Video - Baldwin County Commission - Baldwin County Training School (2013)...

12) Video - Baldwin County Commission - Dedication of Baldwin County Training School Black Education Museum (2013)...